#3127 CT - D-subminiature pin and socket crimp tool
Product Features
Description
Crimps D-subminiature pin and socket terminals
(Ref:AMP 90312)
The conductor and insulation crimps conform to O.E.M. specifications and are produced on one tool closure.
Conductor crimps are "B" type, insulated crimps are "Oval" which are produced in two cavities: 28-24 AWG and 24-20 AWG.
An easy load locator and wire stop are provided to orient the terminals during crimping.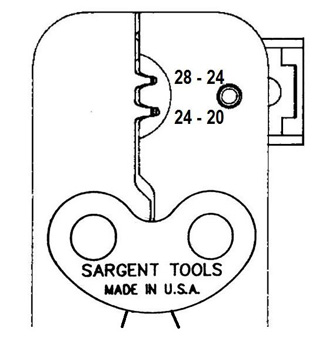 | | |
| --- | --- |
| Item # | 3127 CT |
| Item Application | D-subminiature pin & socket terminals |
| Connector/Terminal Type | D-subminiature pin & socket terminals Ref: AMP 90312 |
| Cable/Crimp Type | Conductor crimp -"B" type, Insulation crimp -"Oval" type, 2 cavities |
| Crimp/HEX/Wire Sizes | 28-24 AWG |
| Product Length | 9 inches / 22.86 cm |
| Product Weight | 15 ounces / .42 kgs |