4267CT - Coax Connector Crimp Tool RG59 & Belden 8281
Features:
Crimps the center pin to a .042 square or .068 hex, the RG59 ferrule to a .255 hex and the 8281 ferrule to a .324 hex.
A multi-purpose frame manufactured to exacting specifications to accept interchangeable dies
Molded grips and an easy reach frame to minimize user fatigue
Reamed bearing holes, centerless ground pivots and heat treated working components
Positive ratcheting assembly with emergency release
Conservatively rated tool life of 50,000 cycles
Crimps that meet or exceed U.L. tensile requirements
Interlocking die sets that are easily interchanged with mounting screws for most product applications<
Die Set Configuration: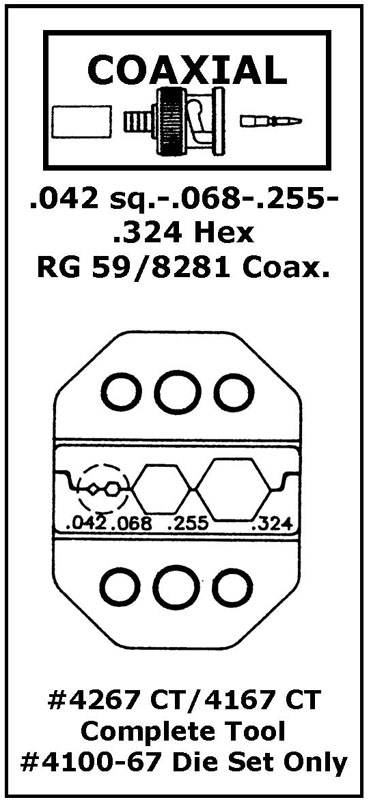 The Super Ergo tools are designed to reduce hand stress.The progressive pivoting action coupled with easy reach cushion grips facilitates productivity. Mechanical advantage is optimized to reduce hand pressure while maintaining proper hand grasp ratios. Fine blanked, high carbon steel construction provides the highest level of accuracy and performance available in the industry.
Item #

4267CT

Die Only

4100-67

Item Application

BNC, TNC 3 piece

Connector/Terminal Type

Coax

Cable/Crimp Type

RG59, Belden 8281

Crimp/HEX/Wire Sizes

.042sq / .068 / .255 / .324

Product Length

10.5 inches / 26.7 cm

Product Weight

1 lb 8 oz. / .68 kgs