9306STC - 1/2" & 3/4" Ultra-Lite Combo PEX Crimping Tool for Copper Crimp Rings
Buy Online
Features:
Combination 1/2-inch and 3/4-inch 2-in-1 crimper for PEX copper crimp rings
No need to change tools to switch from 1/2-inch to 3/4-inch - both sizes are in one tool
20% lighter than most PEX crimp tools to help you stay on the job longer with less fatigue without sacrificing tool strength
Soft comfort grips increase crimping power and lessen chance of slippage
Composite handles combine the strength of glass-filled polycarbonate with the chemical resistance of polyester; these tools hold up to plumbers' punishment
Easily calibrated; simple instructions are on the handle
Crimps conform to ASTM F-1807 Standard Specification
Click here for written calibration instructions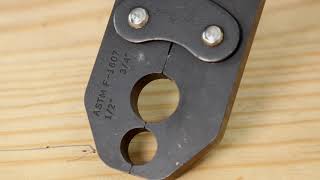 Item #

9306STC

PEX Pipe Size

1/2 inch & 3/4 inch

Sealing System

Copper crimp rings

Recalibratable By User?

Yes. Simple instructions are on the handle.

Available with Display Packaging?

Yes. Can be ordered in clamshell (9306 STC DP) or pod case (9306 STP)

Includes Go/No-Go Gauge?

Yes

Tool Length

14 inches

Tool Weight

3 lbs. 4 oz.