4296CT - Six-Size Copper Power Compression Lug Crimp Tool
Buy Online
Features:
The Super Ergo frame design reduces hand stress. The progressive pivoting action coupled with an easy reach cushion grip facilitates productivity. Mechanical advantage is optimized to reduce hand pressure while maintaining proper hand grasp ratios. Fine blanked, high carbon steel construction provides the highest level of accuracy and performance available within the industry. These tools are manufactured in the US and are backed by over 100 years of quality craftsmanship.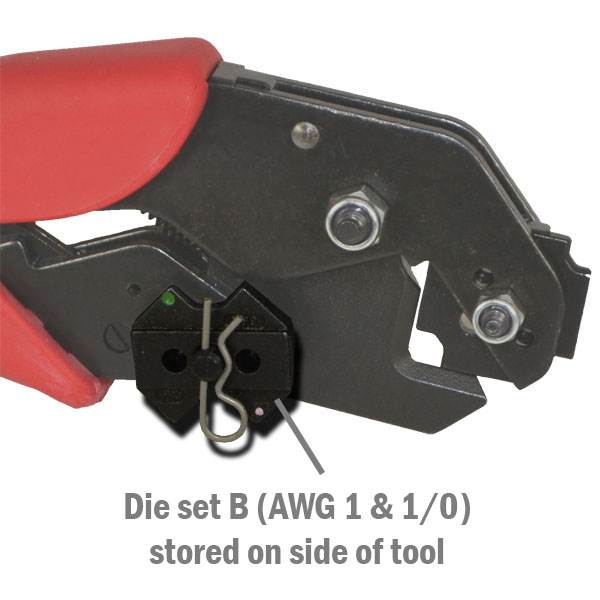 Includes two rotating die sets, color coded to industry standard (AWG) sizes:

Die set A: Red-8; Blue-6; Grey-4 & Brown-2 (Installed)
Die set B: Green-1 & Pink-1/0 (Attached to pin on side of tool)

Pin and cotter pin on side of tool hold die set that is not is use
Frame manufactured to exacting specifications
High mechanical advantage with molded cushion grips minimize user fatigue
Easy reach frames that optimize hand grip ratios to maximize user productivity
All bearing holes are reamed, pivot pins are centerless ground and all working components are heat treated
Positive ratcheting assembly with emergency release
Tool life is conservatively rated at 50,000 cycles
Crimps meet or exceed U.L. tensile requirements
Standard tool length is 10-1/2 inch to facilitate two handed crimping
Item #

4296CT

Item Application

Copper power compression lugs, color coded RED-8, BLUE-6, GREY-4, BROWN-2, GREEN-1, PINK-1/0

Connector/Terminal Type

Compression lugs & splices

Crimp/Wire Sizes

8, 6, 4, 2, 1, & 1/0 AWG

Tool Length

11 inches

Tool Weight

1 lb. 8 oz.